Situatie
VIDEO SCHEDULER INTERNAL ERROR is an error code associated with the Windows Blue Screen of Death (BSoD). This code signals about computer's graphic card problems. Most of the time, this error occurs during gameplay. In certain cases, the issue can be caused by video adapter, hardware changes, corrupted system files or third-party software. Many users who encountered this issue report using NVIDIA graphic cards or Ryzen CPU processors.
Solutie
Pasi de urmat
Check if you're running two security programs at once
Video_scheduler_internal_error can be caused by recently installed or activated programs, such as antivirus. To be particular, users report Kaspersky Antivirus may be causing the issue if Windows Defender (now called Windows Security) isn't disabled.
In case you are using antivirus software different than Windows Defender, disable WD using these simple steps:
Use Windows search to find Virus & Threat Protection.
Here, look for Virus & Threat Protection Settings. Click on Manage settings.
Toggle Real-Time Protection OFF.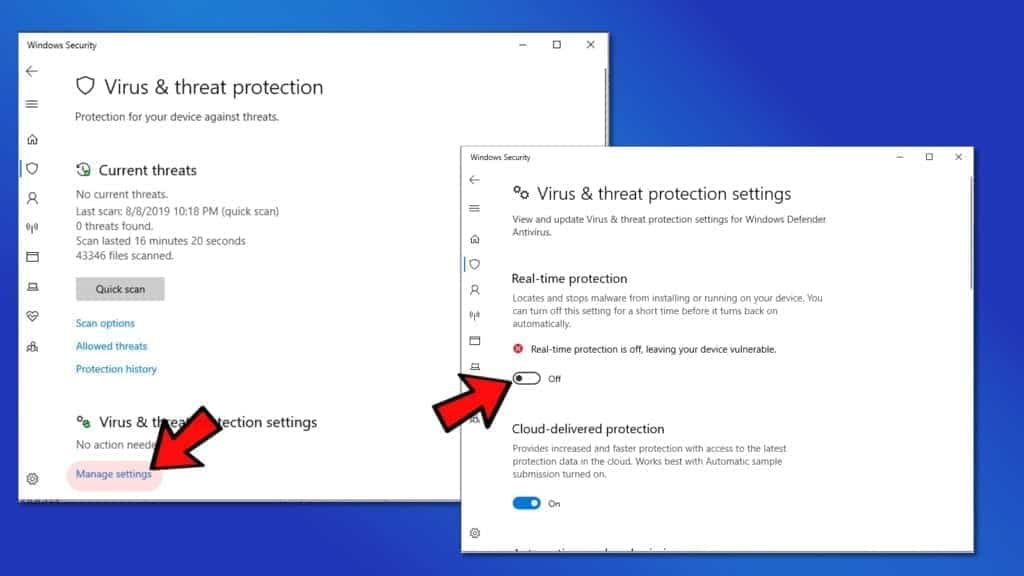 Check and repair hard disk problems
Blue Screen of Death (BSoD) Errors like Video Scheduler Internal Error often occur due to system file corruption or errors related to hard disk. You can easily run a system check using Command Prompt.
In Windows search, type cmd, then right-click on the matching result to it Run as administrator. In the UAC window, click Yes.
In Command Prompt – Administrator mode, type sfc /scannow and hit Enter. Wait until the process finishes scanning and fixing corrupt Windows system files.
Now, type chkdsk /f /r and press Enter. Most likely, the run won't start immediately and you'll get a message that the volume is in use by another process. You'll be asked whether you want to perform scan the next time your computer restarts – type Y and press Enter to agree.
Restart your computer.
Check if the error persists.
Update drivers to Fix Video_Scheduler_Internal_Error
This is the most common fix for Video Scheduler Internal Error NVIDIA. As widely known, faulty or outdated device drivers are the most common issue causing BSoD errors. To manage, uninstall or update device drivers, launch Device Manager on Windows. Here's a full guide on how to fix your drivers:
Press Windows key + R to launch Run prompt. Type devmgmt.msc and press OK.
In Device Manager, first, check for drivers with a yellow icon identifying that they're having problems. Simply double-click on categories to expand them; subsequently, right-click each device and click Update driver.
NOTE. In case you can't see yellow notifications, try updating graphics devices (by NVIDIA or another manufacturer) and processors first as shown below, and, if required, other drivers as well.
After that, choose Search automatically for updated driver software. Repeat until you fix all the faulty drivers.
Check if the problem persists.
Uninstall Windows Update
Let's face it – Windows updates, especially Windows 10 updates, come with loads of bugs and annoy people to death. Therefore, in case there are some corrupted settings in the system due to a recently installed patch or update, you might run into Video_scheduler_internal_error BSoD. In such case, try to roll back by uninstalling the faulty updates:
Follow this guide to start Windows in Recovery Mode and enter Safe mode from there.
Once in Safe Mode with Networking, use Windows search to open Control Panel.
Go to Uninstall a program. You may find this option under Programs and Features or simply Programs section.
Look on your left and click View Installed Updates.
Here, order the installed items by date and try uninstalling the updates one by one. Simply select one and click Uninstall.
Check if you continue to run into Video Scheduler Internal Error.
Tip solutie
Permanent